Easter Island 2 is raced with Buggies in the sunset. The barriers in the small tunnel have been removed, so cars can fall Out into the lava.
Like Moscow 2, an early level like this one is flawless. It cannot get any better. EI 2 is by far the toughest (and funnest) Level 2, not only because of the barrierless volcano, but because of all the difficult overtakes, and one unstoppable race leader.
With the barriers removed, a Rampage can be performed (most likely in Lap 2), only if AI Baptiste is caught before the beginning tunnel. As Buggies, we have better control blocking others (even with a vulnerable car), and bottleneck-blocking out-of-control jumping Buggies may just be the best thing in the world.
The S-turn is legendary in my book, with AI opponents having programmed to drive differently there. Like Easter Island 4 & 7, the Small Ramp can cause opponents to mess up, so badly that they may fall Out in the water.
I accept AI Baptiste's (pure) dominance in this level and his nearly unbeatable role in Lap 1. Surprisingly, AI Ivanov can take over if Baptiste is the human player, and NOT Ahmed. Therefore, the level becomes 8x easier if the player is Baptiste. The AI unpredictability of this level is amazing, especially for a 2-lap Buggy race.
The secret fireball is located over the red barriers at the S-turn. It opens a track almost identical to this level; Easter Island 7, another favorite among players.
That settles Buggies, Easter Island, and sand terrains. We're down to four levels...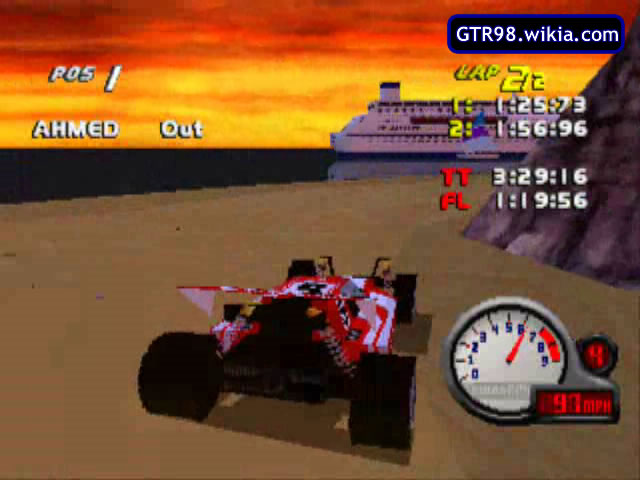 Community content is available under
CC-BY-SA
unless otherwise noted.