Switzerland 4 is the newly-opened race with more snow. A long winding road is opened midway of the track.
This level has no Out Zones or Underdogs, and its difficulty is nothing compared to Scotland 4. It's just one, classic level I play for relaxation. The snow is a lot of fun, and I simply enjoy the nature of the track. Swit 4 used to be in my Top 5, and now I'm pretty worn out on it, but it's great enough to be within the Top 10.
A Non-Deadly Rampage is possible at the U-turn, although it is extremely difficult to do, and is rather luck-based. If an AI opponent is accidentally knocked the "wrong way" while turning, they may spend the rest of the race as a blind moving carcass. They will repeatedly drive into the barrier, possibly hinting at the shortcut available in Switzerland 6.
This track is similar to Egypt 5 in terms of AI programming; Swit 4 is a Rally Party. It programs AI opponents to speed at their fullest in Lap 1, but only to slow down in Lap 3, for Rossi & Morgen to take over.
Switzerland 4 is a Rally Party, meaning that just about any opponent can win the race. Seriously, I've seen AI Baptiste finish first before; twice in fact, and one time he finished a whole mile ahead of everyone. I did not interfere with any opponents. But I think Baptiste is still the "overall worst AI" in this level.
In Grand Tour Racing 98, AI Roberts is a Bogey-Starter who immediately drops to 7th place as soon as the race starts. One of the strange mysteries in the game...
Some say that this level is identical to Switzerland 5. But in Swit 4, the opponents are faster, more aggressive, and closer together. They make more mistakes, so their final positions are unpredictable. Believe it or not, but I find Switzerland 4 to be more challenging than Switzerland 5.
We're through 33 levels... all locales still alive.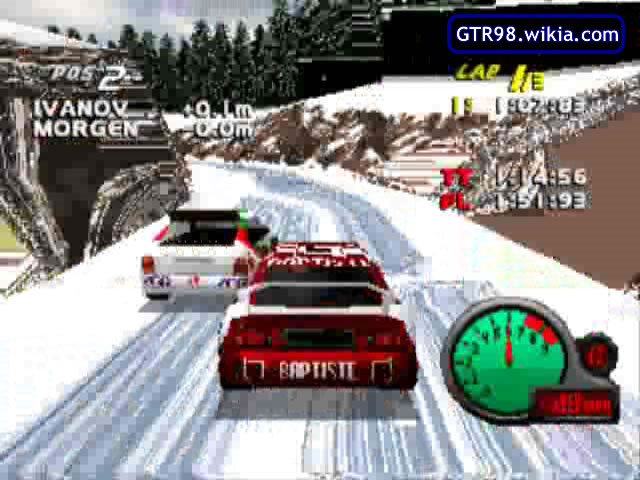 Community content is available under
CC-BY-SA
unless otherwise noted.